Afterschool Pickup Program Durham
Look no further for the best after school program serving the Durham area! Our fleet of afterschool vehicles and drivers pick up your child at the end of the school day and transport them safely to our facility. Children are given time to have snack and participate in active sport activities in our fully equipped gym area before engaging in daily confidence building martial arts classes.
Our daily afterschool taekwondo classes help build respect, focus, discipline and develop physical fitness in your children. We help parents with the tough job of giving their child the tools and skills needed to overcome some of the tough obstacles they face at school such as bullying or self-confidence issues.
Our school is also open early at 9am during PA Days and School Holidays so that parents can drop them off at our facility at no extra charge!
If you are interested in our afterschool pickup service, please give us a call for more information and availability and see why we are the best afterschool program in Durham!
REGISTER EARLY! SPOTS FILL UP QUICKLY!
Please call us at 289-200-9182 or email ryoukodurham@gmail.com to get registered! Only a limited number will be accepted!
Our Afterschool Program Features:
PA Day & School Holiday Camp
We offer full coverage of PA Day, and School Holiday camps. Camp days run from 9am – 4:30pm. Parental pickup from 4:30pm – 5:30pm.
Pickup from school with our after school buses
Our after school buses are regularly serviced and fully insured for safety!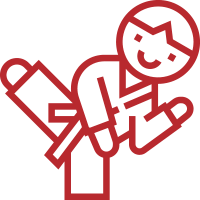 Daily classes, games and homework supervision
Daily Taekwondo instruction by certified Black Belt instructors.
Children 5 and up eligible.
Late pickup for parents is included for your convenience.
Fully insured, professional instructors
Daily sport activities before taekwondo class includes, soccer, parkour, gymnastics and more!
PRICING
FULL TIME (4-5 Days Pickup Service)
$135/week + HST
PART TIME (1-3 Days Pickup Service)
$115/week + HST
PAYMENT TERMS
$300 deposit registration fee and pickup service is billed monthly.